Implants en brigdes
Implants as a replacement for lost tooth roots: a task for the implantologist!
Implants and brigdes
Implants as a replacement for lost tooth roots: a task for the implantologist! New teeth as a sustainable renewal, which can prevent further loss of teeth. Prevent further loss by a tooth renovation of your teeth and fully enjoy life again. With the treatments from our implantologist, you will feel confident again, enjoy food and speak clearly. Read on if you want to know more about implants and bridges.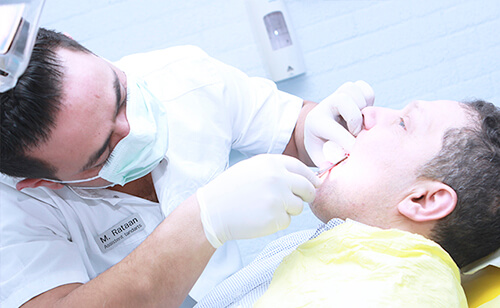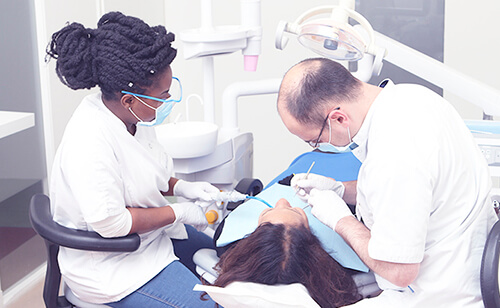 What is an implant?
A dental prosthesis, another word for the implant, replaces the affected root of the tooth. Crowns and bridges can be placed on top of this, preventing loss of teeth. If teeth or molars are gone, it may be advisable to opt for a dental renovation. This is often done by means of a crown, bridge – two or three parts, a click prosthesis or a completely loose denture on the toothless jaws.
Choose professional dentistry that is close to people.
 Are you considering a renovation of your teeth?
Then book your implantology consultation now! Do you want more information about this treatment, the costs, crowns, a prosthesis or implants, and bridges? Then no longer hesitate and immediately contact the dental office in Amsterdam-Southeast. Oral care practice Kruitberghof is available for you at all times!
Our dentist, specialized in implantology, uses a consultation to determine whether a dental prosthesis is a suitable solution. The quality and density of your jaw bone are evaluated. He also looks at the available space for an implant, the health of your gums and your overall health. Do you have inflammation in your mouth? Then treatment is excluded until this inflammation is healed. Is there insufficient jaw bone? Then treatment is needed to stimulate bone healing. To determine this, we take X-rays of the jawbone, sometimes a 3D photo is necessary.
What are the costs of an implant ?
If treatment with implants is planned, a treatment plan and a specified budget will be drawn up. In addition, we provide you with all the information about the treatment and the expected treatment duration. We are the bridge between you and your health insurer, the budget and your dental insurance will show us what is reachable. Snap-on teeth and implants are in many cases covered by the basic insurance. You can make an appointment with us in the following ways: 
Request your own dentist for a referral.

Make an appointment with us directly.
Choose professional dentistry that is close to people.
 Information for referrers
All treatments will be under the supervision and in consultation with you. We only perform treatments for which a referral applies. A patient referred by you cannot register with us as a patient in accordance with the referral guideline.
Y
During the treatment process, you will be informed about the progress of the treatment, that way you will never be faced with any surprises. Take a look at the most common dentist treatments by clicking on our "Treatments" page.
The Dentists
The dentists of Mondzorgpraktijk Kruitberghof are BIG registered for the implementation of preventive, curative, medical and acute and implantological treatments.

Mondzorgpraktijk Kruitberghof

Expert dentists work at Mondzorgpraktijk Kruitberghof, who have many experiences in their field. In addition to a high level of professionalism, dental practice Kruitberghof has many specializations in-house. You will experience that our professionals stand for quality and efficiency, in which your dental wishes are central.
Mondzorgpraktijk Kruitberghof
is gewaardeerd op ZorgkaartNederland.
Bekijk alle waarderingen
of
plaats een waardering
Contact
Kruitberghof 61-A
1104 BC Amsterdam
praktijk@mondzorgkruitberghof.nl
Tel: 020 261 36 89
Like ons op: Facebook 
Tandartspraktijk Kruitberghof is telefonisch van maandag tot en met donderdag en zaterdag tussen 09:00 en 17:00 bereikbaar.