Facings
A facing is a layer of tooth-colored filler material made of composite or a porcelain protection
What is facing ?
Facings are a layer of tooth-colored filler material made of composite or porcelain protection. With the help of facings, the dentist can enhance the appearance of your teeth with minimal interventions. This way he can change the shape or color of a tooth. He can also fill gaps between teeth, repair broken corners, whiten yellow or brown teeth and mask crooked teeth. We are happy to show you what is possible.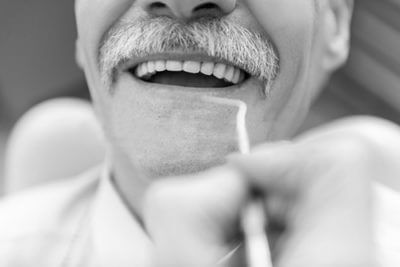 Specialist treatment
A facing is made from porcelain or composite and is applied over the surface of the tooth. In comparison with a crown, only a small piece of the front tooth needs to be ground away. This leaves a lot more of your own glazing and other tooth tissue. This has benefits for the strength of your tooth and the nerve is not damaged.
Placing a facing requires a high level of craftsmanship. It is a challenge to ensure that you get beautiful and functional teeth again. We are happy to serve you!
When it is possible to achieve the desired aesthetic result with a facing, then this is always our preference, with preference being given to composite facings because our own tooth tissue and enamel are retained. An additional advantage is that the costs of a composite facing are lower than those of porcelain.
It is important to work accurately. Our dentists are specialized and use magnifying glasses, or even a dental microscope if necessary.
Treatment plan, costs and insurance
The treatment plan, costs, and insurance If you think you need a facing, dental care practice Kruitberghof will first prepare a budget for the costs to be expected. First, consult your insurance policy for any reimbursements. Please contact us if you have any questions.
B
We are happy to explain how complaints arise, what the existing treatments are and what prevention measures you can take. Go through the most common dentist treatments by clicking on our "Treatments" page.
Choose professional dentistry that is close to people.
The dentists
The dentists of Mondzorgpraktijk Kruitberghof are BIG registered for the implementation of preventive, curative, medical and acute and implantological treatments.

Mondzorgpraktijk Kruitberghof

Expert dentists work at Mondzorgpraktijk Kruitberghof, who have many experiences in their field. In addition to a high level of professionalism, dental practice Kruitberghof has many specializations in-house. You will experience that our professionals stand for quality and efficiency, in which your dental wishes are central.
Mondzorgpraktijk Kruitberghof
is gewaardeerd op ZorgkaartNederland.
Bekijk alle waarderingen
of
plaats een waardering
Contact
Kruitberghof 61-A
1104 BC Amsterdam
praktijk@mondzorgkruitberghof.nl
Tel: 020 261 36 89
Like ons op: Facebook 
Tandartspraktijk Kruitberghof is telefonisch van maandag tot en met donderdag en zaterdag tussen 09:00 en 17:00 bereikbaar.